$ cat marco.cv | 2>&1 | grep -v "I work w/ computers" | tee out.log
IN A NUTSHELL

A Hadoop and all around guy.
A DB-centric Web/Mobile developer (Powerbuilder, Appeon, Java MVC, Android).
A Grid/Cloud computing enthusiast with proficiency in WLCG tools and publications in conferences endorsed by IEEE and ACM.
EDUCATION
2015-2018: Ph.D in Computer Science, Dept. of Computer Science and INFN/CMS, Pisa, Italy

Thesis: Mining Predictive Models for Big Data Placement
R&D: Big Data Analytics and Machine Learning on dataset popularity at CERN

2008-2012: Grid Computing Researcher, Ecole Polytechnique Fédérale de Lausanne, Switzerland

Thesis: Interactive Analysis on the ALICE Grid with PROOF
R&D: Interactive Grid Computing, awk2SQL, Distributed Algorithms, O.S. and DBMS

2006: Qualification of Computing Engineer, Engineering Dept., University of Florence, Italy
1997-2005: MSc in Computer Science, 110/110 with honors, Math Dept., University of Florence, Italy

Thesis: Monitoring of a distributed computing system: the Grid AliEn@CERN
Study domain: Programming languages and distributed systems
SKILLS

Grid/Cloud computing: AliEn, ROOT, XRootD, PROOF, MonALISA, IPAS
Big Data: Hadoop, HDFS, Pig, Spark, Scala, Hive, Impala, MapReduce
Mobile programming: Android Studio, Appeon Mobile, Cordova
Desktop/Web programming: PowerBuilder, Appeon, Java MVC, JS, Php, Perl, C++
DBMS: Oracle, MySQL, Informix, DB2, SAP ASA/ASE, MSSQL, SQLite
Application Server: MS IIS, JBOSS, EAS, Apache, WebSphere, WebLogic
O.S.: Windows, Linux, MacOSX, iOS, Android, SCO, Unixware, AS400, VM/VSE
Other tools: Yacc, Lex
SCIENTIFIC PUBLICATIONS & CONFERENCES

2018    Dataset Popularity Prediction for Caching of CMS Big Data, Journal of Grid Computing
2017    Popularity-based caching of CMS datasets, PARCO, Bologna, Italy
2017    Exploiting Apache Spark platform for CMS computing analytics, ACAT, Seattle, USA
2016

   

XrootD popularity on Hadoop clusters, CHEP, San Francisco, USA
2011

   

iGrid: Interactive Grid, IEEE ESCIENCE, Stockholm, Sweden
2011

   

Beyond batch computing on the WLCG Grid, IEEE/ACM GRID, Lyon, France
2011

   

Interactivity on the Grid: Limitations and Opportunities, ACM HPDC, San Jose, USA
2010

   

Exploiting the ALICE HLT for PROOF by scheduling of virtual machines, CHEP, Taipei, Taiwan
2009

   

A Worldwide Parallel ROOT Facility, Supercomputing, Portland, USA
2009

   

Interactive Parallel Analysis on the ALICE Grid with the PROOF framework, ICCS, Baton Rouge, USA
2009

   

Current Status of the CERN Analysis Facility, CHEP, Prague, Czech Republic
2008

   

Using IHE profiles for an healthcare DataGRID based on AliEn, EMMIT, Tripoli, Libya
2004

   

AliEn Web Portal, CHEP, Interlaken, Switzerland
PROJECTS/CONTRIBUTIONS

2010    Appeon. Simplified Cloud App developnet
2009

   

AliEn. Job Agent plug-in for PROOF workers on Grid nodes
2008    ROOT/PROOF. CPU fairshare and PROOF on the Grid
2007

   

grid.math.unifi.it. LHC Grid site at the Mathematics Dept. of Florence
2004    MonALISA. ALICE Grid monitoring
Here below a handful of major organizations I have worked for or collaborated with.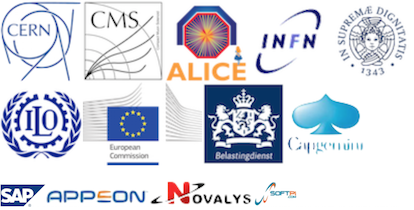 WORKING EXPERIENCE

2010 – now:

Appeon Expert

at ILO (CH), EACEA (B), Novalys (F), Capgemini (F), GWS (D), Issos (I), SPI (I)
2016 – now:

Technology Manager

, ISPO, Florence, Italy
2014 – 2015:

Mobile Apps Engineer

, ESTAR, Florence, Italy
2012 – 2013:

Senior Web Engineer,

Ministry of Tax and Customs, Apeldoorn, The Netherlands
2007 – 2009:

Software Engineer

, European Organization for Nuclear Research, Geneva, Switzerland
2005 – 2007:

Software Engineer

, ICT Department of the General Hospital, Prato, Italy
2004 – 2005:

Software Developer

, European Organization for Nuclear Research, Geneva, Switzerland
1996 – 2003:

Computer programmer

, ICT Department of the General Hospital, Prato, Italy
1993 – 1996:

Several positions in IT

, Italy